Last year (gosh, it still feels weird to say that) on Black Friday, Cult Nails had an awesome sale. All of their polishes were $7! As soon as I heard this I knew I was at least ordering Clairvoyant, aka Unicorn Puke. Of course I picked up some extras too, when have I ever been known to just buy one polish!?
I'll start with a few photos of the packaging my polishes came in. They were shipped to me in a box, and the interesting thing to note is that according to the postage sticker, I paid less for postage than I should have. Cult Nails only charged me $8 but as you can see, the actual cost of postage was $9.14.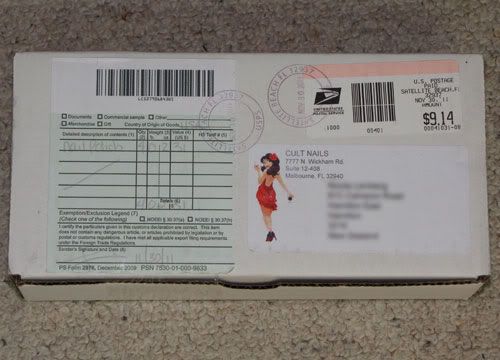 While it's great to know I'm not being overcharged for shipping, I would be more than happy to pay that extra $1.14 when ordering from stores like Cult Nails. Cult Nails is just a little indie business, run by the lovely Maria, and it concerns me a little that she might be cutting into her profits with this postage thing.
By the way, I love the label on the parcel. The little likeness of Maria is so cute!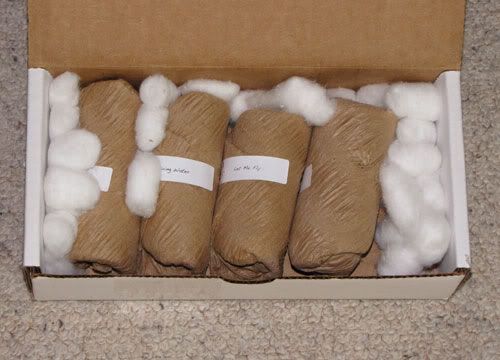 This is how my parcel looked when I opened it up. Four 'polish burritoes', as the polish world and Maria call them, and cotton balls as packing filler. I think the cotton balls idea is great! The idea is that you can recycle these and use them to take off your polish (as we all know you are going to want to do INSTANTLY after you unwrap your babies!).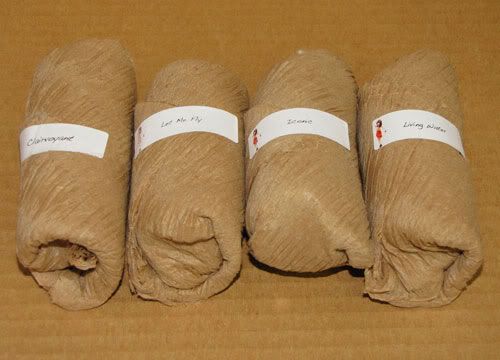 I've seen photos of these polish burritoes before, but I didn't expect the wrapping to be made out of the material it was. It's a kind of pliable, texture cardboard, and each polish is wrapped in 10-12 sheets of it. I expected it to be soft, like a fabric. It works well and protects the polishes well though, and I suspect it may be biodegradable or made from recycled paper or something like that.
And here are my babies! From left to right we have: Living Water, Iconic, Let Me Fly, and Clairvoyant.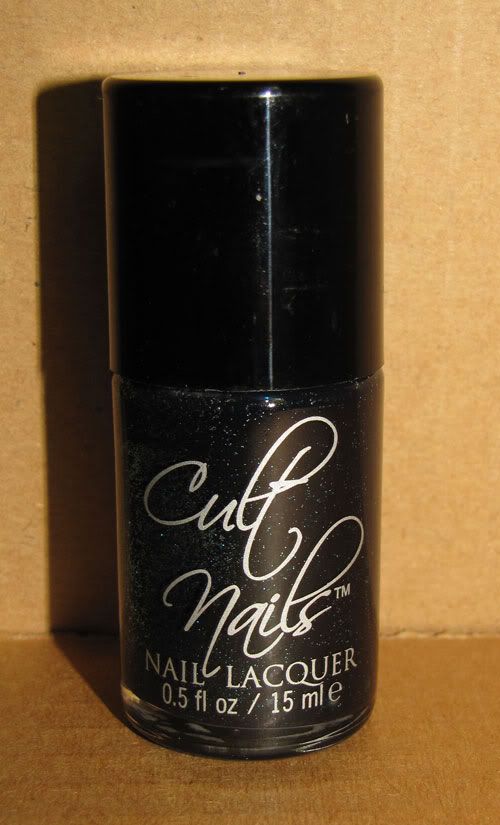 Cult Nails nail polish in Living Water
Living Water is a dark blue-green base with lighter green glitter. It's absolutely gorgeous and I think the same suits it perfectly.
Cult Nails nail polish in Iconic
Iconic has been the Cult Nails shade I have wanted ever since I first discovered the brand. In the meantime, I have learnt that my expectations of it weren't correct. I expected it to be essentially what Barielle's Elle's Spell is, except a slightly more purple red. After studying swatches I can see that Iconic is not like this. The flakies aren't as pronounced, for one thing. But that's OK! Because it's still beautiful regardless! And I figured out it wasn't what I thought it was before I bought it, and I still bought it, so that has to count for something!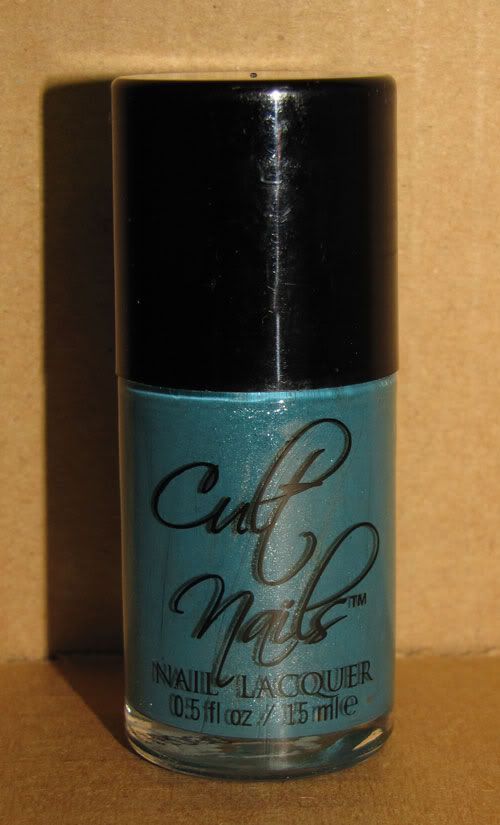 Cult Nails nail polish in Let Me Fly
Let Me Fly is a dusty teal with shimmer. I think this polish was actually discontinued for a time, or maybe it was just out of stock for a long period, but either way I knew it had to snap it up when I had the chance.
Cult Nails nail polish in Clairvoyant
And this little guy, well, I don't think he needs any real introduction. For the few of you who have never seen him before, all you need to do is click here, here, and here. I was really lucky to score Clairvoyant in the Black Friday sale. I had intended on placing my order the second the sale went live, but I got distracted by the biggest, most epic nail mail I have ever received (posts to follow… one day…) and I didn't get around to it until a bit later. Clairvoyant sold out 5 or 10 minutes after I placed my order. I'm glad I got to it in time!
I'm really happy with my Cult Nails purchases. My parcel shipped quickly, arrived in perfect condition, and all of the polishes are awesome. As much as Clairvoyant is a total show stealer, the other three I bought are just as pretty. I finally joined the Cult - yay!