I woke up the other morning to find a parcel at my door. I kind of freaked out a little bit and thought it was some parcels I had sent being returned because customs had said "no!". Luckily, it wasn't. Instead, it was a small nail polish haul from my mum and dad! Yes, another one!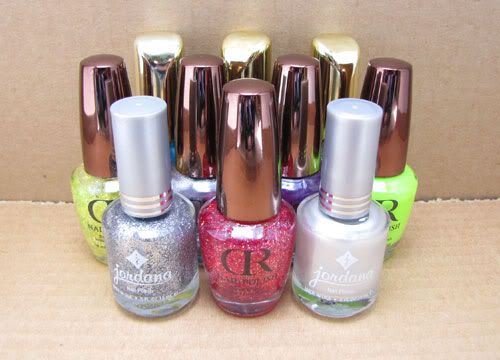 Click through for more pics!
The K.K.s: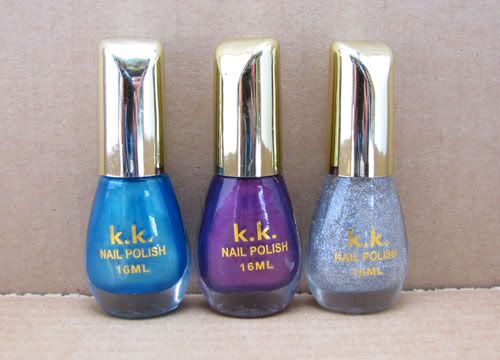 These ones don't have names, just numbers. The blue one doesn't show up very well in this photo. It's kind of opalescent with a green-y gold flash. It's very mermaid-esque!
The CRs:
These ones also only have numbers. It's so hard to keep track of them when they don't have names! The one in the centre is this amazing silvery purple foil. I haven't seen anything like it before. I also love the glitters that this brand comes out with. Have a look at them up close!
See the little stars in the yellow one? So cute! The pink one has gold and red glitter through it too. It looks very Christmas-y to me.
The Jordanas:
Jordana nail polish in Silver Glitter, and Silver
The one called Silver isn't really silver - it's more of a metallic white, if such a thing exists. It's an interesting polish. I haven't seen anything like it before and I'm interested to try it out. I think it will make a great base for layering combinations.
So there it is, another haul from me! Thanks mum and dad!
leonacarolina posted this