Today's post is short and sweet, as it is late and I'm getting tired!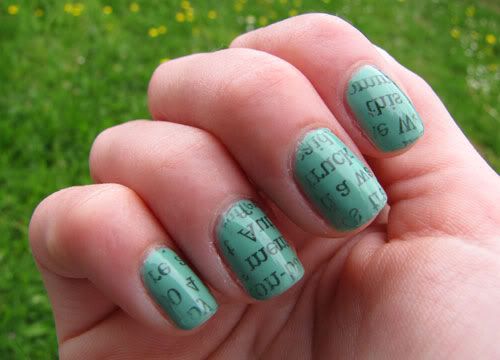 For day 24 of the nail challenge - inspired by a book - I did newspaper nails! The base colour is Sinful Colors Open Seas and the newspaper wording is transferred onto the nail using newspaper (obviously), vodka, and some gentle pressure. I wasn't inspired by any particular book for today's theme, just books in general. Yeah, because books have green pages right?
This is also my most complimented manicure to date. I probably had 15 or so people comment on my nails. I worked today, and lots of customers asked how I did it, and most were surprised that they weren't stickers, à la Sally Hansen Salon Effects. The staff were also really interested in them - even the males! I ended up playing up to the attention and giving out some of my business cards for the blog. I hadn't given any out before then, and it was kind of awkward and I felt super lame but that's what they are there for I guess.
leonacarolina posted this